Health agency offers tips on disinfecting to stop spread of COVID-19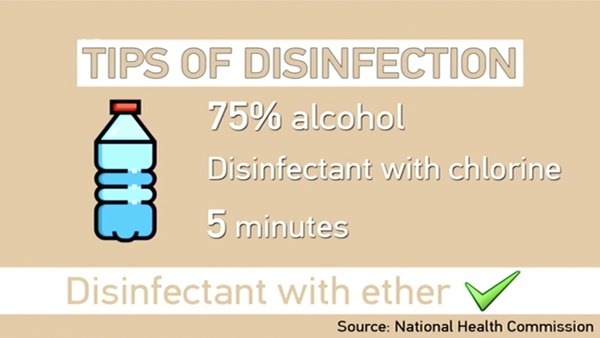 China's National Health Commission has offered tips on proper disinfection techniques to tackle the novel coronavirus outbreak.

  It says many types of disinfectant can kill the virus. A mixture containing 75% alcohol and disinfectants with chlorine can do so within 5 minutes. A disinfectant with ether is also effective.

  The commission says the virus is sensitive to high temperatures and ultraviolet rays, so keeping a temperature of over 56 degrees Celsius for 30 minutes and using ultraviolet lamps could both inactivate the virus.

  People can also disinfect tableware, either using specialized cabinets or boiled water.

  Officials also recommend eating freshly cooked food, instead of raw items. And keeping rooms ventilated is also important.